5 Reasons to Consider a Mobile App for Your Sports Club
Are you contemplating how to achieve the growth ambitions of the club and its stakeholders?
If your answer to at least one of these questions is yes, then you should seriously consider building a mobile app for the sports club. We live in a mobile world and companies, clubs and other organisations are building mobile apps to boost revenue growth and create new commercial opportunities by building deeper and more valuable relationships with their customers/fans.
The fact that other clubs are doing on their own is not reason enough. There are however a lot of other reasons why a mobile app might be the right strategy for your sports club's success and why we at Gomeeki have the best fan engagement solutions that you need to fuel this next stage of growth.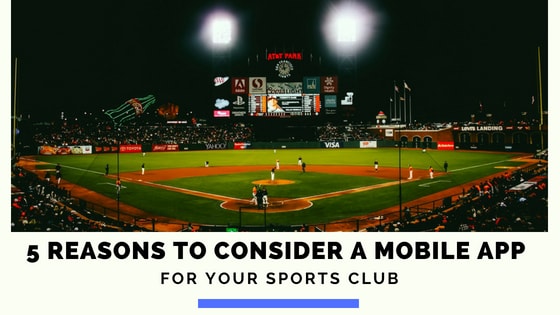 Here's five of them!
1. Effectiveness
Let us explain. What would you rather do? Go to your local printer and have them print out copies of your club's programs for the week, and then going out of your way to hand each copy to every member of the group, one by one.
Or
Simply going to your club mobile app, updating the latest club information and making it available in real-time to all supporters, wherever they are.
The answer is obvious.
Here at Gomeeki, we boast a range of fan engagement solution features that make it easy for fans of your sports club to stay updated about events and news concerning the club. With key features such as newsfeed, social integration, micro-payments (digital wallets), polls, contests, push notifications, coupons, and competitions to encourage fan activity on your mobile app. Talk about effectiveness! With a Mobile app for a sports club, you will not only be delivering your fans an experience they want but also reducing the costs of how the business has been done traditionally.

2. Websites are sometimes a hassle
Now you might be thinking, "We have a website, why do we need a mobile app for a sports club?" but think about it adding an app to your marketing mix will only promote easy access. For example, push notifications in an app can be set to notify users about important announcements and events, even if they do not open the mobile app. The result of this is that they do not miss anything important even when they might be too busy to open the app and check for information themselves but also places your brand in their pocket, 24/7.
Furthermore, it is much more convenient to open an app on your mobile and get instant access to the information you need rather than opening your browser, typing in the address and searching through all of the content before finding what you're looking for.
Put simply, a mobile app for sports club can do things a website cannot, due to the unique characteristics of these devices. Powerful content management in our mobile apps, along with the provision of easy access to live match info and statistics provides your fans with a superior experience.
3. Social Integration
Already mentioned earlier, but its importance brings about the need for emphasis. The hype about social media in recent times is for good reason and it can not be ignored. Our social integration tools will be extremely useful for promoting your club to the outside world.
When your fans and members communicate with each other and share information with their friends, the popularity of your club is bound to increase dramatically, better still you're not having to pay for these referrals.
Talk about boosting growth? This is what it is about!
4. It is an investment
The focus should not only be on immediate growth. Mobile app for sports club is an investment for the future as they will generate new revenues for you over time. You are bridging the gap between your sports club and its members and potential new members.
5. We literally have everything you need
Deliver engaging content and great fan experiences that are optimized for mobile and tablets devices.
Effective methods of fan data collection, management, and actionable insights.
Marketplace for access to commercial partners.
Promote time-sensitive flash sales such as merchandising and partner offers.
Sponsorship and In-App advertising solutions.
Digital membership cards.
Secure data storage.
Reward passion through awarding points for engagement that can unlock awesome deals from the club and its commercial partners.
Auction game memorabilia, and unique opportunities through an inclusive and interactive bidding engine.
Incentivize ongoing fan engagement through weekly and season based games.
Recognise loyal members with gamification techniques such as status levels earned by accumulating points.
FanTribe's launch partner, ASX listed Brisbane Broncos (ASX: BBL) is one of Australia's biggest sports brands and have been hugely successful on and off the pitch.
FanTribe is available globally, and new clubs can be on-boarded within a matter of weeks so don't get left behind. 
We've just signed on to work with NFL heavyweights, the Jacksonville Jaguars. Our end-to-end fan engagement solution is granting the diehard fans of the Jags the chance to interact with their team in a whole new way. As they look to establish themselves in the UK, FanTribe gives them the power not just to reach a whole new audience but reach them in a way not previously possible Read more
"Smartphones and tablets are transforming how and where we consume news and information. The ABC must meet the challenge of delivering content to the audience at a time they want and on the device and format they prefer."

Mark ScottManaging Director, ABC
The Broncos evaluated numerous Fan Engagement solutions over recent years and Gomeeki's passionate & experienced team, combined with their innovative FanTribe platform was the only solution that we believe will deliver a winning mobile experience for our fans.

Terry ReaderChief Commercial Officer, Brisbane Broncos NRL
"Health Partners selected Gomeeki on the basis that the services provided are far more than just an app development house. The relationship to date has delivered Health Partners the benefit of a much deeper insight into digital strategy, the power of Gomeeki's Ubiquity platform and a disciplined, structured development process. As a customer, we have been delighted with the quality and outcomes to date.

Colin LangmeadCIO- Health Partners
The list goes on, but you get the idea. We are not inflexible and we will listen to any other ideas or plans that you may want to introduce. Your input is important as we seek to provide an app that fits in with your business objectives.
Join the revolution. Your fans will thank you.
[activecampaign form=3]