What is App Development?
App development is defined as the process from idea inception to after-launch monitoring of a mobile app. Basically, development of an app is a whole process of coming up with an idea for an app, searching for and hiring an app developer, developing the app (coding, appearance, functions, etc.), launching the app, and maintaining (analyzing and improving) the app after it has launched. Development of an app can take a few weeks to months to complete, depending upon the complexity of the app, timeline desired, and budget.
How to Shortlist Top Mobile App Development Company?

You have a mobile app development idea for your business that you want to pursue but aren't sure how to begin. Here's the deal: When you make the decision to build a new app for your business, there are important factors that you have to consider. Going on Google to do a simple search might end up being an expensive mistake. A lot of people advertise themselves as a top business mobile app company and maybe they do have knowledge of the business. But you would be better served sacrificing some of your time to do some necessary research about top app companies who have prior experience in your niche and have case studies to help you understand their software development process and success.  
Think of it this way
When you decide to purchase a new car, will you just blindly drive to the dealership and buy the first car you see? Probably not! Instead, you will more than likely look at the specs of each car (such as gas mileage, safety features, warranty options, etc.). When you invest in a mobile app for your business, it is a lot like buying a new car. You need to do the research and know what to look for in an app developer. So, to get you started, here are six tips for choosing the best mobile app companies in Australia (or anywhere in the world, for that matter!).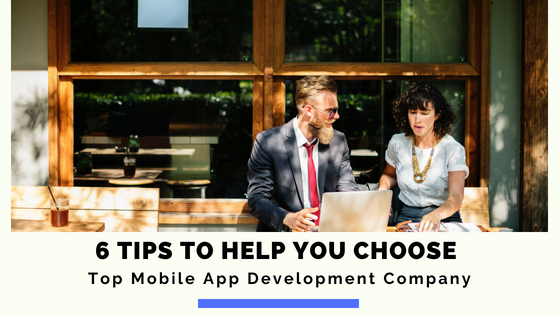 Identify the Differences Between Top App Developers, Web Designers, and Freelancers 
This point is not a swipe at freelancers in any way, but you should know that while there may be a lot of people that can build mobile apps or wearable apps, there is a difference in quality, and more importantly being around in the future to provide ongoing support once the application has been released and on the market. If you run a small-scale business that is specifically working with a very limited budget, you might be tempted to work with freelancers for your ios development  or android development needs.
Web and Mobile Experience
But be sure to ask your shortlisted freelance android developer or apple developer about their past development jobs (preferably with some client references). You can also check their qualifications by seeing what certifications they have (specifically whether they have completed a software engineering program or attained a mobile developer certification). This will give you more confidence when understanding their expertise in the different operating systems. The easy way to verify credentials is via social media platforms like LinkedIn or Behance.
How to Choose Top App Developers
However, if you're a mid-to-large scale business, you should not even consider the freelance option. Instead, go with a top app developer or web designer! Mobile apps are a big part of the growth of your business and you must not compromise on quality. Apart from the fact that freelancers are hardly ever specialists in all the niches, they will also work for you based on their own schedule. On the flip side, genuine app company will work on your schedule, and they will have specialists that successfully deliver  software products that aligns with your business objectives. Generally, you are guaranteed better quality and a better insurance of your project's success.
Identify Your App  Needs
This may sound a bit obvious, or even crazy, but know what your business needs for it to grow! In other words, you must have clarity about your business and how exactly a software development company will help you drive it forward. Before you worry about the functionality and features that you want in the app, you should take your time to establish what the business needs, and if you indeed do require an app. Knowing this will help you while you are evaluating your options for Android apps or iPhone app development.
Ask questions related to your app idea/mobile platforms
Don't be afraid to ask questions when discussing with your app team what your ultimate business goals are. Sometimes you will have a goal that you aren't sure how to reach. Ask the android studio top app developers or ios app developers / app team. Chances are they will have an idea or two about how to reach that goal through the app.
Here's an example:
If you have a goal of reaching/acquiring 100 new customers in a month. The app  team can offer suggestions such as in-app purchase discounts (where customers are offered a discount the first time they purchase an item through your new app).  Remember: The app company you choose should be supportive of your ideas and willing to work hard to reach your fullest potential.
Identify the Needs of Your End Consumers
So, you have identified the needs of your business. Great! But here's the kicker: Now you need to identify the needs of your end consumers which includes ui ux design. This is even more important than identifying the needs of the business itself. As there really is no point in developing a mobile app that doesn't perform the functions your customers want to use. The consumers drive your business, so you must identify what they want from you, possibly by conducting a survey or monitoring user behavior. You need to work with an app company that can deliver these capabilities. Many times, business owners will decide to have an app developed for their business because of user needs.
Here's an example:
For instance, if you have a small-town grocery store that serves mostly retirees or elderly people. Then you may have the idea to develop an grocery app for your store. Which allows users to shop for groceries on the mobile devices and have the groceries delivered to them. In this situation, the app would need to be simple and easy to use, as well as have features like shopping and delivering. This is just one example of how important it is to know what your customers need and how your app can fulfill those needs.
Gomeeki was asked to work with Aussie Farmers Direct to create 'AisleOne', the world's simplest way to shop online. AisleOne had to be Australia's easiest, quickest and most intuitive online shopping/ user experience.
Consider Your Local App Development Options
Say, for example, your business runs nationwide, but your headquarters is in Sydney. You should take a look at Business app development companies or top app developers in Sydney and consider them in your search for a partner. Evaluate them with the other tips we have provided. And if they check the right boxes, then seek out an initial discussion.
Having a local app  team or app developer has benefits for you and the company. For you, there is the benefit of proximity to your business (which helps when your schedule is tight, but you need to quickly meet with your development team). For your app team, a benefit for them can be the ease of visitation to your business. Hiring a local app  team will enrich your web and mobile app development experience in so many ways.
Look for An Experienced and Top App Developer
One other important step that you must take when choosing an custom software or app company is to do your research. Find out which businesses the company has worked for in the past. This will provide you with potentially valuable information. Because you might find a mobile app company that has worked with a client in the same niche.
It may be easier to just quickly search the internet for reviews on an app developer, but it's not as beneficial as taking your time to really find out the specifics of their past work. Knowing what kind of experience an app developer has will help tremendously when you are making your final decision for hiring your mobile app developer.
Consider the Value of Your Investment
App dev Cost is one of the factors that you should consider while selecting a good app company. A word of advice: The cheapest isn't always the greatest. Spending a few extra dollars for a reputable mobile application development company will deliver additional value in the long run. Sometimes that extra $10k you invest with a more experienced  and high quality provider will outweigh the risk.
Every business wants to save money. But where does the compromising end? With the development of an app for your business, please don't compromise for the sake of costs. Hire an app  company that will deliver in quality and success.
Why Gomeeki?
The first thing that you should do now is begin your research. One way you can start is by checking out our mobile application development services at Gomeeki. We are one of the top web and mobile app development companies in Australia with a vast portfolio of products and experience.
Why not see what our customers are saying about us and how we approach your project:
"Smartphones and tablets are transforming how and where we consume news and information. The ABC must meet the challenge of delivering content to the audience at a time they want and on the device and format they prefer."

Mark Scott

Managing Director, ABC
The Broncos evaluated numerous Fan Engagement solutions over recent years and Gomeeki's passionate & experienced team, combined with their innovative FanTribe platform was the only solution that we believe will deliver a winning mobile experience for our fans.

Terry Reader

Chief Commercial Officer, Brisbane Broncos NRL
"Health Partners selected Gomeeki on the basis that the services provided are far more than just an app development house. The relationship to date has delivered Health Partners the benefit of a much deeper insight into digital strategy, the power of Gomeeki's Ubiquity platform and a disciplined, structured development process. As a customer, we have been delighted with the quality and outcomes to date.

Colin Langmead

CIO- Health Partners