Who is an App Developer?
An app developer is a certified professional that transforms your idea for an app into an actual product that is launched and used on designated platforms (such as Android or iOS). Mobile App Developers deals with the "technical" components that go into bringing an app to life, such as coding to accommodate features and design. An app developer can be certified in specific areas of ios and Android development platforms.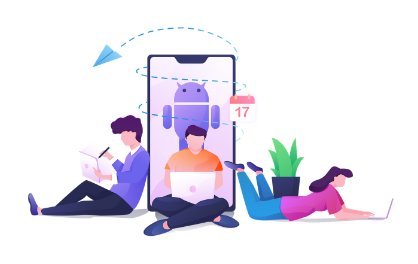 It is usually recommended that you hire a team of app developers from a development firm so that your app idea will receive input from a diverse group of app developers. In addition to your app's pre-launch procedure, an app developer will also monitor and analyze your mobile app.
Let's get started:
Global market revenue in mobile app development doubled in less than five years, according to Statista reports. It is only natural to assume this environment attracts a formidable workforce, enabling you to have your choice of top-notch mobile app developers.
In that case, you may be surprised if we tell you that hiring talent is one of the biggest challenges startups are dealing with. Moreover, software developer positions have been among the hardest to fill. The reasons boil down to this:
Good mobile app developers cost (a lot of) money. 

With a big pool of candidates, it is hard to nail down who has the right set of skills

Companies and their recruiters often don't know what they are looking for
In this guide, we will show you how to follow 5 simple rules to avoid these shortcomings and save your business a lot of time, energy, and money.

Here's the kicker:
According to the State of Software Development in 2017 report from Coding Sans, around two-thirds of startups consider work experience as one of the most important hiring criteria, followed by cultural fit and test project and side projects. This is a good starting list – but the mistakes we mentioned above always creep in. How do you avoid them? Follow these rules.
Rule No. 1: Don't go for the cheapest
It's a given – you have a set budget, and you cannot go beyond it, especially if you have a startup. But it's a cold hard fact: developing mobile apps is not a cheap endeavor, and the more money you want to make, the more you will have to invest.
You are an architect, a mobile app developer is a builder. If you hire the cheapest builder, you will save some money initially. But if your entire house collapses because the foundations were faulty, re-building it will end up more expensive than cashing out for the good builder from the get-go.
Spending those extra dollars to engage the services of a reputable firm may pinch in the beginning. But that well-spent money will certainly outweigh the risk you would take with a cheap, low-quality app development team. If you invest in a high-quality app team, your app will accrue value over the long term, ensuring your business' success.
Rule No. 2: Set the App Development Framework
Many companies' upper management and recruiters simply don't know the intricacies of mobile app development. After all, if they did, they'd be the ones developing the app, right? But if you want to hire excellent mobile app developers, you will have to learn something about mobile app development – or consult someone who is an expert.
This needs to happen before you even post a job opening. This way, you will be able to list a very specific set of skills you are looking for, and immediately disqualify those who don't fit in. Start from the basics:
Decide which type of app you want
There are three basic types of mobile apps. Native apps are built for a single mobile operating system exclusively. Hybrid apps are built using multi-platform web technologies. Web apps are responsive versions of websites that work on any mobile device.
Each type has its pros and cons. For example, native apps ensure high performance and good user experience, but they are more complicated to develop. You can find more details about the types of apps here.
Focus on the benchmarks of specific app category
Are you developing gaming, lifestyle, or travel app? How much maintenance and updates will it require? All of this affects your business model, marketing strategy, industry benchmarks, and yes, the app development process.
For example, any banking app requires solid inbuilt security features like encryption and data loss prevention. You may find a stellar mobile app developer, but if they lack experience with this type of technology, you are wasting each other's time.
Once you set a basic framework for your app, you can focus on the details of mobile app developers' expertise.
Rule No. 3: You Need an App Developer, Not a "Ninja"
As we mentioned, if you are not 100% sure what makes a mobile app development expert, consult one.
For example, let's say you opt for a native banking app. This means your mobile app developer candidate needs to be an expert with programming languages Swift and Objective-C (for native iOS apps) and Java or Kotlin (for native Android apps).
Moreover, since native apps are built using specific Integrated Development Environment (IDE), your target app developers should be capable of working with the IDE of your choice. Finally, you expect them to be well versed with writing secure code, data encryption, high-level authentication, cryptography tools, etc.
Yes, it sounds like an alien language and it may be daunting. However, being specific significantly decreases the chances that you'll hire an app developer who is better at selling themselves than writing code.
So, avoid looking for ninjas, gurus, and rockstars who are "always on top of their game," and focus on hiring app designers who are good at the specific things you need.
Rule No. 4: App Developers Experience
The level of experience you need from mobile app developers depends on the complexity of your project. If you are building a simple app, there is nothing wrong with giving a chance to a beginner or intermediate app developer who wants to polish their skills.
But if the stakes are high, don't risk it. For a native app, you want app developers who know their way around and have enough knowledge to come up with creative solutions when faced with challenges.
The more credentials, the better. Ask for certificates, degrees, recommendations from former clients, colleagues, or employers. Most important of all, ask for their portfolio. There is no better way to rate candidates than their past work.
Rule No. 5: Culture fit is a big deal
While it may sound hippie at first, culture fit is a genuinely important part of the equation when you are hiring app developers.
App development is usually a long process that requires a lot of coordination in the team. These people don't have to think the same way about every issue in this world. However, they do have to be able to overcome challenges constructively, even when there are differences in opinions and approaches.
This is possible in an environment that fosters a healthy relationship between the employees. This relationship extends to upper management as well. Developing an app puts a lot of time, money, and energy on the line. Bottom line, you want to do it with a team who wants the app to succeed as badly as you do.
Conclusion
If you follow these five rules, you will discover a solid pool of app developers talent. How do we know? Because we stuck to them when we were building the leading mobile app development team at Gomeeki.
Still feeling overwhelmed or in need of advice? Simply give us a call. Whether you need expert opinion or app development services, you are in safe hands. No fluff, no ninjas – just pure knowledge and experience!
"Smartphones and tablets are transforming how and where we consume news and information. The ABC must meet the challenge of delivering content to the audience at a time they want and on the device and format they prefer."

Mark ScottManaging Director, ABC
The Broncos evaluated numerous Fan Engagement solutions over recent years and Gomeeki's passionate & experienced team, combined with their innovative FanTribe platform was the only solution that we believe will deliver a winning mobile experience for our fans.

Terry ReaderChief Commercial Officer, Brisbane Broncos NRL
"Health Partners selected Gomeeki on the basis that the services provided are far more than just an app development house. The relationship to date has delivered Health Partners the benefit of a much deeper insight into digital strategy, the power of Gomeeki's Ubiquity platform and a disciplined, structured development process. As a customer, we have been delighted with the quality and outcomes to date.

Colin LangmeadCIO- Health Partners
Why Gomeeki?
Gomeeki will work with you to fully understand your app development needs and put in place the best plan for your business. Our team of mobile app developers in Sydney, Australia understands the essential ingredients for the development of a winning mobile app, even when challenged with seamless integrations into complex business environments and legacy systems.
Brands We've Worked With

[activecampaign form=3]