5 Steps to Boosting Your Sales with SMS Marketing
SMS may seem like an obsolete means of communication compared to modern messengers and social media. However, its underdog status makes SMS refreshingly engaging, and yes – successful marketing channel. Find it hard to believe? Here are some surprising SMS marketing numbers:
Text messages have a 98% open rate

Text messages have a 209% higher response rate than email or Facebook

90% of text messages are read within 3 minutes

Consumers redeem SMS-delivered coupons 10 times more than other types of coupons
So, ready to give SMS marketing a shot? Keep in mind that misusing the privilege of having access to someone's phone inbox is a costly mistake. So let's see which SMS marketing strategies will help you boost your sales, and which mistakes you definitely shouldn't make.
1. Two magic words – target and segment!
Let's start with the strategy that applies to any marketing channel, including SMS. If you want your messages to resonate with your audience and prompt them to action, you want to make sure of two things. First, know your customers. By the point when they opt-in for receiving text messages from your brand, you probably already have enough information about their interests and purchasing habits. Leverage this knowledge to write compelling offers that will tap into their needs and behavior. 
Second, know the differences between your customers. SMS marketing that comes down to random text message blasts sent to all of your subscribers is a waste of time. For example, if there is a big back-to-school seasonal sale, there isn't much purpose in messaging 21-year-olds about it. In fact, texting your customers about discounts and sales they are not interested in is perceived as spam.
Bulk messages are a good choice for some general sales, discount, and information. For everything else, focus on targeted SMS marketing for various segments of your audience. Once you do that, customer relationship management apps or features can help you analyze responses and find patterns that will help you fine-tune your messages. 
2. Find the right time and frequency
Since SMS marketing feels a bit more personal than classical ads or emails, it is fairly easy to cross the line into the pushy and spammy zone. Nailing down the right tone, frequency and time of your messages will help you steer clear from that zone.
We mentioned in the introduction that an overwhelming majority of customers read text messages within 3 minutes of receiving them. SMS marketing relies on a quick, immediate reaction from customers, so avoid doing SMS promotions way ahead of important events. 
If you have a weekend sale, send your message on Friday evening or Saturday morning. Unless an event requires some sort of preparation, SMS promotions, in general, should be sent out on the day of the event, a few hours ahead.
It should go without saying that you should not message your customers at the dead of the night – stick to 8am-9pm time frame, and pay special attention to time zones if you operate internationally. 
Similarly, the frequency of your messages can make or break your SMS marketing efforts. Around 75% of consumers are fine with receiving SMS messages from brands – but you shouldn't overstay your welcome. Although the right frequency depends on the nature of your business, on average, successful businesses text their customers 2-4 times a month. In general, any message that does not contain valuable information and clear call to action should not be sent.
3. Use words clearly and sparingly
Although writing a simple text message may sound like the simplest thing in the world, putting a compelling offer into 160 characters can be a significant challenge. So, unless you are a great copywriter, hire one, or learn the intricacies of SMS communication.
Think about the way text messages display on your phone. When you open the inbox, you are likely to see a part of the first sentence. Make sure these 2-3 words contain the value proposition or key information for your customers – as you can see from examples in the image below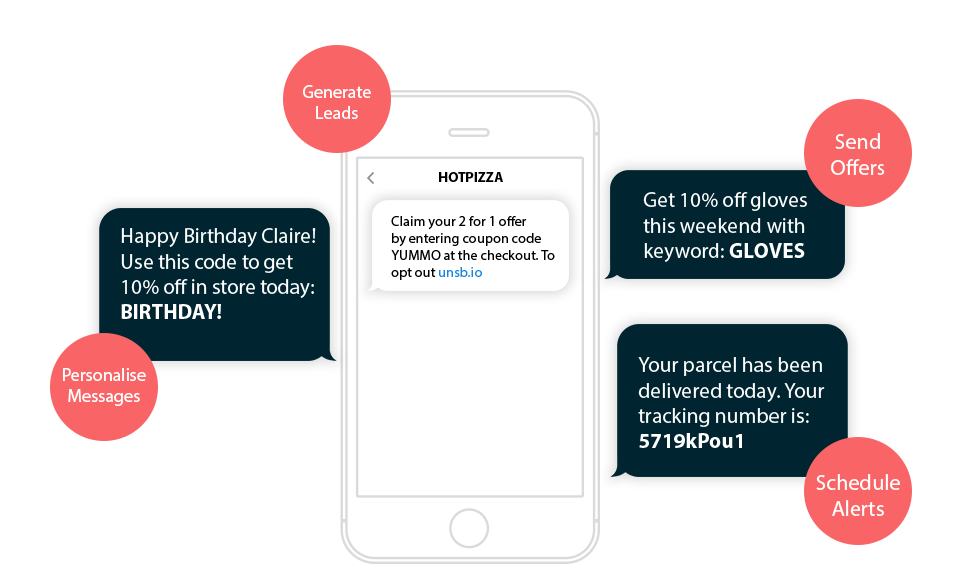 Strong SMS marketing texts include personalization, clear information (what, when, for how long, how to get it) and a clear call to action.
4. Use a strong call to action
The importance of a clear call to action in SMS marketing cannot be overstated, so there is a special section dedicated to it. As we already said, the nature of SMS lies in the sense of urgency and immediate response. While ads or email marketing can serve different purposes such as informing or educating your customers, the sole purpose of SMS marketing is to prompt customers to do something. 
Calls to action such as – click here, text to win, text to vote, buy now, pay now – are refreshingly simple and effective. However, keep in mind that CTA's that go beyond "text back" request should not be "empty". 
The best solution is to display them as clickable WAP links that will take your customers where they need to be to take action. This can be a payment processor or your website, depending on your offer.
5. Final step – get personal
Sure, we talked about targeting and segmentation, but now we mean personal – for real. Little things can go a long way, and in terms of both email and SMS marketing, addressing your customer by name is a simple trick that can boost your message. 
Using SMS marketing to wish your customers a happy birthday or inform them about discounts on items they prefer is a great way to ensure actionable engagement from customers. Another trick up experienced SMS marketers' sleeve reminding customers of their previous purchases and recommending items based on them. 
Using split testing to determine the best messaging, as well as the right timing and frequency is one way to fine-tune your SMS marketing personalization. Hers's another blog on App Marketing Plan (Works Great In 2019)
Here's a blog post to help you understand enterprise networks.
Looking for the SMS marketing solution? 
Now that you know just how effective SMS marketing is and what makes it effective, it's time to look for the right partner. If you want a platform that will seamlessly guide you through these five steps, look no further than Gomeeki.
Gomeeki SMS marketing solutions encapsulate the best marketing practices. It comes with a flexible customer engagement platform that enables:
Messaging

Push notifications

Digital coupons

Payment options

Data management 

Segmentation 
Our SMS marketing solutions are specialized for various industries, including sports, insurance, retail, schools, NGO's, marketing, and religious organizations. 
"Smartphones and tablets are transforming how and where we consume news and information. The ABC must meet the challenge of delivering content to the audience at a time they want and on the device and format they prefer."

Mark Scott

Managing Director, ABC
The Broncos evaluated numerous Fan Engagement solutions over recent years and Gomeeki's passionate & experienced team, combined with their innovative FanTribe platform was the only solution that we believe will deliver a winning mobile experience for our fans.

Terry Reader

Chief Commercial Officer, Brisbane Broncos NRL
"Health Partners selected Gomeeki on the basis that the services provided are far more than just an app development house. The relationship to date has delivered Health Partners the benefit of a much deeper insight into digital strategy, the power of Gomeeki's Ubiquity platform and a disciplined, structured development process. As a customer, we have been delighted with the quality and outcomes to date.

Colin Langmead

CIO- Health Partners
Brands We've Worked With

Want to give it a shot? Just click below!