Why is Sports Marketing important?
Sports marketing is an amazing challenge for any marketer. Digital era allowed sports fans to experience their favorite sports and teams in unimaginable ways. But how do you connect with your fans if you are not a renowned, multi-million dollar club?
There are quite a few simple ways to create engaging sports marketing campaigns and make your fans feel like they are part of one big family. Here are 5 tips on how to engage fans using simple sports marketing tricks – and we added a few examples to give you a better idea. Yes, this works for total beginners too!
Create a fan persona
There is nothing worse than striking the wrong tone when you are trying to speak to the sports fans. You may want to sound friendly, upbeat, and up to date with "funky youths" but you may end up looking like this
One excellent way to avoid that disaster is to create a (fan) persona. Persona is a profile describing your average fan's name, age, income level, education, profession, lifestyle, and attitudes. It is a highly detailed description of an imaginary person intended to give representatives of your target audience a "human form". Here's one example.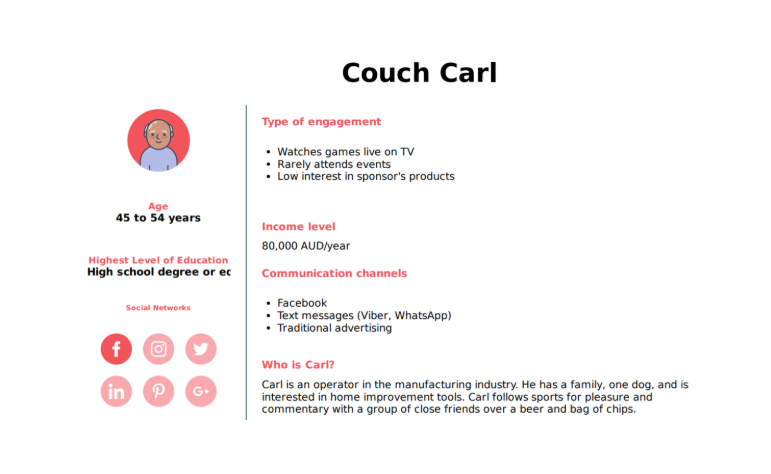 Created in Hubspot
Since sports fans in most cases come from very diverse demographic and social groups, the best criterium for segmenting personas in sports marketing is their lifestyle and level of engagement. The Couch Carl persona was based on a study by agency Team Epic, which segmented sports fans into five distinct categories.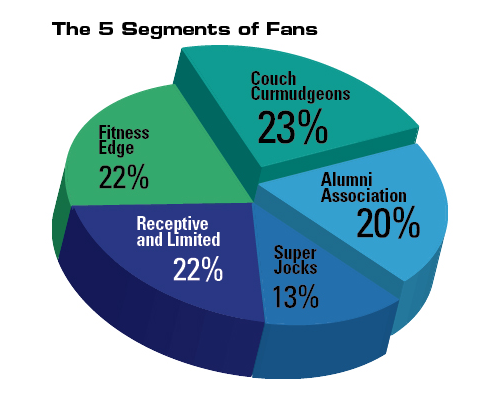 Source: Sports Business Daily
Couch curmudgeons

– the oldest and least active, watching sports at home, and unlikely to spend a lot of money on merchandise or tickets.

Alumni association

– older male sports fans with high income and heavily invested in college sports.

Superjocks

– mostly male, young, highly social and active group with high income and enthusiasm for engagement and attending live events.  

Receptive and limited

– both male and female sports fans with below-average income, taste for pro sports and NASCAR. Highly receptiveness to ads and sponsors' message.

Fitness edge

– a female-dominated group, young, physically active, with average income. Into Olympics, active on social media and selective with their purchases and choices.  
If you want to learn more about developing personas, here's a detailed handy guide.
Once you understand who are your fan personas, you can focus on providing them with the best experience within the marketing channel they prefer.
Use classical content
Content marketing is one of the most popular marketing strategies for a good reason. According to a 2015 IBM Digital Experience Survey, 56% of marketers believe that personalized content boosts engagement rates and helps consumers remember a brand. It establishes a relationship based on trust, allowing you to assert your sports brand as a source of guidance and authority.
When we say engaging content, we mean highly targeted articles that respond to the interests of each persona specifically. This content doesn't necessarily have to be connected to the sports team. Nurturing a high-quality relationship with sports fans is all about giving them the relevant information they need when they need it.
Remember the famous 80/20 rule. Use just 20% of your content to promote your sports brand, and the rest 80% should be content that interests your audience and involves them in conversation. A commentary of your team's latest game is equally good as a listicle on top 10 running shoes or a funny YouTube video compilation – if that is what your target sports fans care about.  
Use interactive content
If you are looking for the cheap, yet effective way to skyrocket fan engagement in sports marketing – look no further than interactive content such as polls, surveys, calculators and quizzes. More than three-quarters of marketers agree that interactive content helps them stand out among their competitors, attract attention, and enhance retention of their brand messaging.
Interactive content gives sports fans the opportunity to be more than just bystanders – they can be supporters, critics, brand ambassadors, but most importantly, they can be a part of the group.
Thanks to social media, creating interactive content that boosts fan engagement has never been easier. You can run polls on Facebook, Instagram, and Twitter, asking fans for their opinions on the latest news or even events that go beyond sport.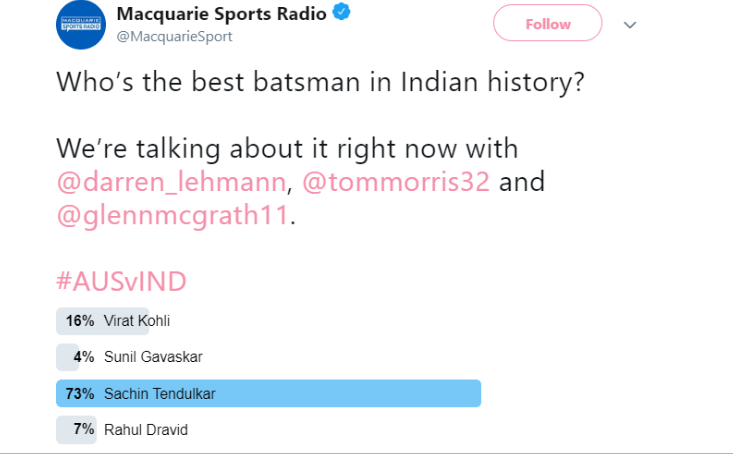 You can create special calculators to help your fans calculate their fitness level or measure it against famous sports players.
You can ask your fans for more elaborate opinions in the comment section of the posts. You can organize live Q&A via Facebook, Instagram, YouTube, or Reddit.
Extra tip: Boost engagement on any piece of content by piggybacking on the trending hashtag or topic. Are your fans impatiently waiting for the next episode of Game of Thrones? Are they discussing the latest season of Stranger Things? A perfect opportunity to pop into the conversation with a witty tweet or sports/TV show meme!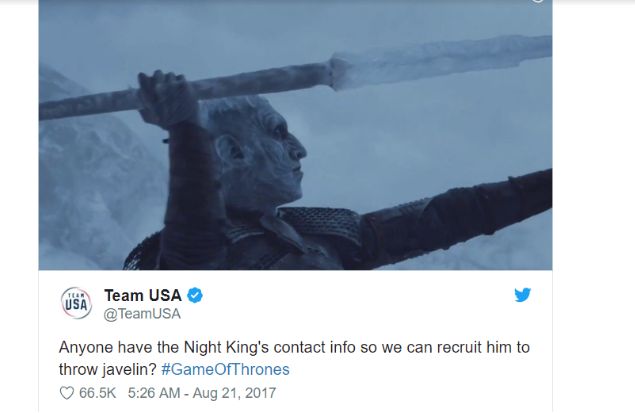 You can get playful with quizzes, entertaining your fans or inspiring their sense of belonging and need for competition. To give you an idea just how irresistible quizzes are, take into account only one BuzzFeed quiz has been viewed over 22 million times, and liked over 2.5 million times. Quizzes can do similar wonders in sports marketing.
The possibilities are endless. Quizzes with headlines such as "Which Melbourne City player are you?" or knowledge-based "How well do you know Australian cricket team?" are a powerful fan engagement generator. On top of that, quizzes can help you gather invaluable information about your fans' preferences, attitudes, and lifestyles, and they can also be a great lead generation tool.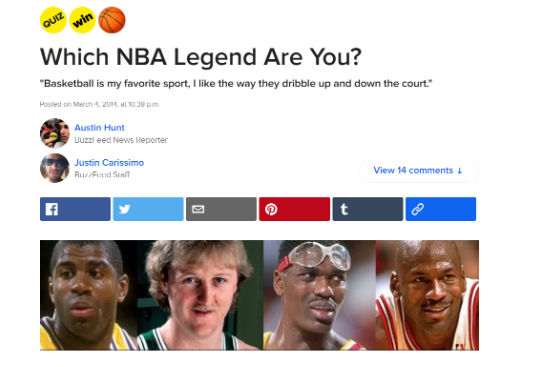 Finally, you can organize competitions, encouraging fans to create branded content. For example, you can challenge them to take funny photos with your merchandise, and reward the winners with season tickets.
Create a personalized app
If you are looking to further deepen the fan engagement and turn it a unique fan experience, there are fan engagement platforms that blend every sports marketing strategy we've been talking about. Think about them as a membership card that provides subscribers with exclusive content, discounts, gifts, and personalized experience.
In turn, the entire process of fan engagement via events, news, quizzes, games, and purchases takes place within the platform. This gives you real-time insights into your fan's needs, allowing you to shape a laser-focused sports marketing strategy for the seamless fan experience.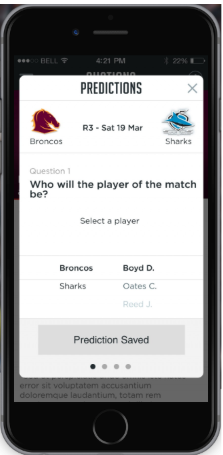 One of such platforms is FanTribe, which integrates real-time gamification, and social and reward strategies into a unified fan experience. Most importantly, it is open to fans, sports clubs, and sponsors, tying all the elements of sports marketing into one channel.
Think of the future – it's virtual
At this point, major outlets and media platforms such as Fox Sports, ESPN, YouTube TV, Hulu, and others are allowing users to connect virtual reality headsets to their devices. According to Goldman Sachs, VR market revenue will exceed the television market by 2025.
"In the near future, we will purchase products in real-time as we watch live events through VR," Travis Cloyd, co-founder of Sports Tech Media told Forbes. "This is the first time in history when sports technology gives us the edge not only in training, or observation but also in fan engagement."
Digital marketing is a field that keeps its practitioners on their toes – and adjusting to the new, virtual reality, is a new glass ceiling for sports marketers. Adopting these technologies is one way to stand out among the competitors – and in fans' eyes.
Conclusion
If there is one final tip for sports marketers, it is one that seems highly counter-intuitive compared to the 5 tips we just listed. However, it works in perfect harmony with them. Go offline.
When we look at the most powerful sports clubs and brands in the world, it is almost impossible to fathom that once upon a time, they had very humble, local beginnings. If you are starting your sports marketing from scratch, keep one eye on your local community.
Get involved. Sponsor local events and athletes. Organize a charity or open class. Each of these small acts will reflect on your brand, shaping an image of a sports brand that is giving people what they essentially need from clubs they love and support – sense of purpose and belonging. With that in mind, any fan engagement strategy will come easy to you. Drive measurable ROI and create a brand experience your future customers will love with our FanTribe Platform.
FanTribe is available globally, and new clubs can be on-boarded within a matter of weeks so don't get left behind. Join the revolution. Your fans will thank you.
Why not see what our customers are saying about us and how we approach your project
"Smartphones and tablets are transforming how and where we consume news and information. The ABC must meet the challenge of delivering content to the audience at a time they want and on the device and format they prefer."

Mark Scott

Managing Director, ABC
The Broncos evaluated numerous Fan Engagement solutions over recent years and Gomeeki's passionate & experienced team, combined with their innovative FanTribe platform was the only solution that we believe will deliver a winning mobile experience for our fans.

Terry Reader

Chief Commercial Officer, Brisbane Broncos NRL
"Health Partners selected Gomeeki on the basis that the services provided are far more than just an app development house. The relationship to date has delivered Health Partners the benefit of a much deeper insight into digital strategy, the power of Gomeeki's Ubiquity platform and a disciplined, structured development process. As a customer, we have been delighted with the quality and outcomes to date.

Colin Langmead

CIO- Health Partners
Brands We've Worked With

[activecampaign form=3]