SMS Text Messaging For Sports Teams
Grow Membership, Ticket Sales and Fan Engagement with SMS Text Messaging.
SMS Marketing, or text message marketing, is a simple way to get your message out to prospective or existing fans – instantly! Offer exclusive deals and coupons for members, upsell merchandise or end of season clearance promotions, or provide match-day information updates and ticketing information.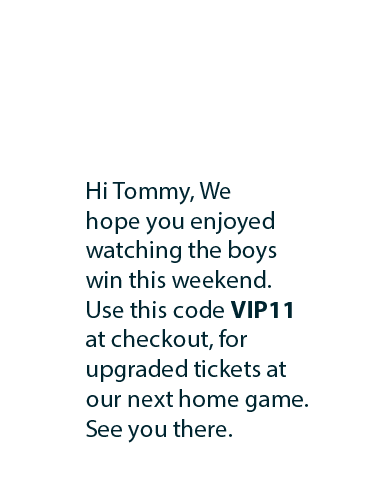 BENEFITS OF SMS TEXT MESSAGING FOR SPORTS TEAMS
More effective than sending emails
98% of recipients read their SMS text messages, 90% within 3 minutes.
Available on any mobile phone
No need to download apps or have a smartphone.
Best way to reach teenagers and young adults
75% of all teenagers text, sending an average of 60 texts per day!
How Sports teams can use SMS Marketing
SMS marketing can increase match attendance, provide special member offers, or simply be used for creating positive engagement experiences with fans.
How Sports Teams can use SMS 2 Factor Authentication
Use 2FA to validate new member registrations and increase the quality of your community database for future fan engagement initiatives.
How Sports Teams can use SMS Lead Generation
Cost effective marketing campaigns with massive ROI, that boost new membership registration while rewarding existing members attributed referrals.